Be the hunter, not the hunted...
On Spotern, you can spot anything that appears in movie, series, clip or TV program. These references are organized into 4 main categories :

PRODUCT
Weaponry, entertainement/art, beauty/perfume/make up, baby and childcare article, set, grocery, High-Tech, hygiene/health, toys, home goods/decoration, sport and hobbies, transportation, uncategorized.


FASHION
Accessories, bags/leather goods, Costume/cosplay, Dresses/skirts, Glasses, hats/caps, jackets/coats, jewelry, pants/shorts/denim, shoes, sleepwear, Suits/ties, sweaters/cardigans/Swimsuit/tops/t-shirts, Underwear, Watches/clocks, Uncategorized


LOCATION
Airports/railway stations, attractions activities, cities, homes & mansions, Hotels, landmarks, restaurants / bars, shops, Uncategorized


SERVICES
Aerospace, agribusiness, agriculture, distribution, energy, entertainment/Advertising/Media, Finance, Healthcare, High Tech, industry, startup, telecom, transportation, uncategorized

There is only one limit, your ability to notice them !

Spoternis not made to list goodies. For example, The thing movie's poster can not be listed on Spotern. On the other hand, The thing movie's poster seen in Stranger Things can be listed onSpotern. Get it?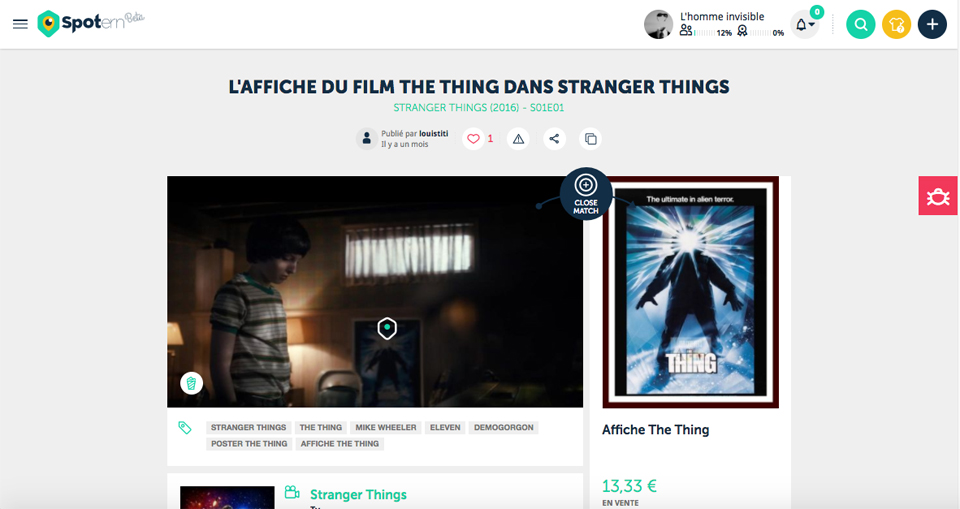 Spoternalso allows you to consider your references according to 4 types of similarities. For further information...
And now, game on!