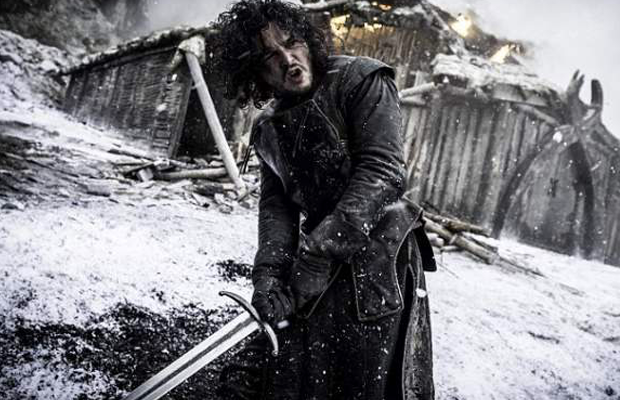 Game Of Thrones est de retour et jette un froid sur les écrans de HBO. La série multi-récompensée revient pour une septième saison de 7 épisodes et l'hiver est enfin là. Stark, Targaryen et Lannister se font plus que jamais la guerre pour le Trône de Fer, mais un nouveau joueur s'est manifesté et il ne semble que très peu concerné par les règles du jeu. Afin de vous aider à vous replonger dans le monde de Westeros, Spotern vous propose de décrypter les enjeux de cette nouvelle saison.
Les Stark – Retrouvailles et Révélations
Après 7 saisons éparpillés aux quatre coins de Westeros, c'est l'heure des retrouvailles pour les Stark. Et si la réunion touchante de Jon et Sansa vous a décroché une petite larme, le retour de Bran à Winterfell (et peut-être même celui d'Arya) devrait accroître votre débit lacrimal. Les réjouissances seront pourtant de courte durée car dans le Nord, la menace plane et les marcheurs blancs sont en route.
Le danger ne semble d'ailleurs pas venir que du grand nord. Face à un Jon Snow qui ne la prend pas au sérieux et un Littlefinger avec lequel elle joue un jeu de manipulations constantes, la loyauté de Sansa risque d'être mise à rude épreuve. C'est qu'elle excelle désormais à l'art de la politique et pourrait devenir un atout précieux ou une douloureuse épine dans le pied de Jon.
Winterfell dispose néanmoins d'un élément capital pour préparer Westeros à la Guerre de l'Aube (War for the Dawn) qui s'annonce : l'information. Avec Samwell et Vère (Gilly) qui enquêtent sur l'histoire des marcheurs blancs à la Citadelle, et l'arrivée de Bran, fraîchement devenu Corneille aux Trois Yeux (Three-Eyed Raven), le clan Stark devrait bénéficier de suffisamment d'infos pour, non seulement faire face au Roi de la Nuit (Night's King), mais unir Westeros face à ce danger commun !
Les Targaryen – La Restauration
Pour Daenerys cette saison 7 se place sous le signe de la mélancolie. De retour à Westeros, la Mère des Dragons (Mother of Dragons) va investir Peyredragon (Dragonstone). Cet ancien fief de sa famille, désormais laissé à l'abandon, devrait lui rappeler des souvenirs et lui servir de motivation pour redorer le blason des Targaryen.
Et elle en a les moyens. A la tête d'alliances avec Dorne, Hautjardin (HighGarden) ainsi que le duo Theon et Yara Greyjoy, Daenerys contrôle la plus grande armée, la plus large flotte et les réserves de nourriture les plus importantes de tout Westeros. A cela s'ajoute ses trois dragons et un désir de conquête démesuré. Virtuellement imbattable, elle pourrait pourtant pêcher par orgueil et compromettre des années d'exil et de batailles.
En effet, habituée à s'opposer à des adversaires manichéens, sa politique de la terre brûlée risque de se heurter à quelques obstacles, car à Westeros les victoires ne s'obtiennent pas seulement par la force mais surtout par la politique. Un domaine que Tyrion Lannister et Varys maîtrisent à la perfection, mais eux aussi seront confrontés à d'anciens démons mettant en péril leurs stratégies. L'héritière des Targaryen devra donc la jouer fine si elle veut obtenir le pouvoir et l'adhésion du peuple. Par ailleurs, ses dragons et les filons de verredragon de Peyredragon (Dragonstone) seront sans doute cruciaux dans la Guerre de l'Aube qui approche, autant de raisons pour conclure la guerre contre les Lannister de manière propre et rapide.
Les Lannister – Vaincre à tous prix
Du côté de Port Réal (King's Landing), Cersei Lannister a abandonné tous faux-semblants au profit d'un réalisme glaçant. Le Trône de Fer est entouré d'ennemis qui la haïssent et veulent sa mort, ça tombe bien, elle aussi veut leur perte. Ils devraient d'ailleurs trembler car c'est acculée qu'elle se montre la plus dangereuse (qui a dit explosion du Grand Septuaire ?).
Seul son frère et amant Jaime est encore à ses côtés, mais pour combien de temps ? Entre les morts successives de leurs enfants, les méthodes de plus en plus radicales de sa sœur et les dangers qui les guettent, il devra garder la tête froide. A la tête de l'armée du royaume, c'est lui qui devra affronter les troupes de Daenerys sur le champ de bataille. Mais malgré son expérience, difficile de contrer une armée couvrant terre, mer et ciel à l'aide de dragons.
Le salut des Lannister pourrait venir d'Euron Greyjoy. L'oncle de Theon et Yara, s'est donné pour mission d'éliminer son neveu et sa nièce désormais alliés à la Restauration Targaryenne. Il serait donc logique de le voir s'associer au clan adverse en grand besoin de support maritime. Par ailleurs Euron convoite lui aussi le Trône de Fer et une alliance avec Cersei serait le moyen le plus direct pour lui d'y accéder.
The Night's King – Winter Is Here
Dernière composante de l'équation Game Of Thrones Saison 7, le Roi de la Nuit (The Night's King) est le danger que tout Westeros devrait redouter. Capable de transformer les morts en zombies à son service, son avancée vers le sud ne semble limitée que par Le Mur. Vulnérable aux flammes de dragon, à l'acier valyrien et au peyredragon (dragonglass ou obsidienne), cette créature issue d'une expérience des Enfants de la Forêt annonce l'avènement de la Longue Nuit et de la Guerre pour l'Aube qui décidera du sort de Westeros. L'enjeu sera-t-il suffisant pour enfin unir les Sept Royaumes ?
Game Of Thrones, saison 7, en diffusion dès le 16 Juillet sur HBO aux US et le 17 juillet sur OCS.