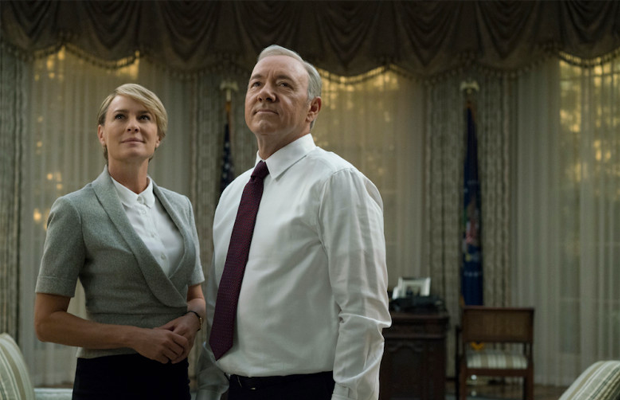 Ils sont de retour, pour vous jouer un mauvais tour, afin de satisfaire leurs ambitions et par tous les moyens éviter la case prison, la Team Underwood plus rapide que la lumière car dans les coulisses du pouvoir, c'est toujours la guerre.
Le couple le plus avide de domination de la galaxie Netflix nous revient pour une saison 5 qui promet manipulations, rebondissements et une plongée de plus en plus sinistre dans les arcanes de la politique. Nom de code : terreur.
Ca y est, les Underwood ont atteint leur objectif, ils sont à la Maison Blanche mais s'ils ont appris une chose durant leurs années de complots, c'est que le pouvoir est une denrée inconstante pour laquelle il faut constamment se battre.
– Frank Underwood
Arrivé au sommet de l'Etat sans être passé par la case élection, Frank Underwood arrive à la fin de son « intérim » et doit se faire élire légitimement pour conserver son poste. Mais entre les ambitions personnelles de sa femme Claire, ses adversaires tout aussi retors, et une tentative d'assassinat à son encontre, la campagne électorale n'a pas été de tout repos. Acculé par une tempête médiatique mettant à jour ses manigances pour voler la Présidence, Frank est plus dangereux que jamais. Seul recours pour échapper aux affaires, gagner l'élection en jouant sur les peurs des américains. Entre guerre et terrorisme l'increvable Underwood semble ne plus avoir aucune limite, mais jusqu'à quand ?


– Claire Underwood
Refusant d'être reléguée au statut de Première Dame, Claire Underwood a passé la majorité de la saison 4 à prouver qu'elle était un animal politique tout aussi performant, voir plus efficace que son mari. Seule stratège à pouvoir mettre Frank à genoux, et son rédacteur de discours dans son lit, elle obtient une place de Vice-Présidente dans la future équipe de son mari. En dépit de la mort de sa mère, elle reste la grande gagnante de cette élection brisant au passage le quatrième mur si cher à Frank, une perspective enthousiasmante pour cette nouvelle saison.


– Doug Stamper
Aux prises avec sa sobriété et sa loyauté aveugle envers Frank, Doug a enfin réintégré le cercle très fermé des Underwood. Mais ce retour en grâce vient à un prix toujours plus lourd pour faire avancer l'agenda de ses employeurs. Entre regrets et conscience torturée, l'homme de main du couple présidentiel continue de nous offrir les scènes les plus tordues de la série. Une position qui nous pousse à nous interroger sur la manière dont il sera impliqué suite aux révélations du Washington Herald sur l'univers Underwood.


– Leann Harvey
Recrutée par Claire lors de sa montée en puissance sur la scène politique, Leann est un peu le bras droit de la peut-être future Vice-Présidente. Discrète, efficace et tout aussi déterminée que son employeur, cette consultante politique prend en charge la campagne du couple Underwood au grand dam de Doug qui voit son arrivée d'un mauvais œil. Une dynamique intéressante à explorer en saison 5.


– Will & Hannah Conway
Candidat du parti Républicain à l'élection Présidentielle américaine, Will Conway est l'opposant direct de Frank dans la course à la Maison Blanche. Adeptes des réseaux sociaux et habiles manipulateurs des médias 2.0, lui et sa femme Hannah se présentent comme une alternative jeune et moderne face à Frank et Claire. Avides de pouvoirs et livrant une bataille politique et médiatique sans merci aux Underwood, ils seront incontournables dans la dernière ligne droite jusqu'à l'élection.


Marquée par le départ de Beau Willimon créateur et showrunner de la série et la reprise de celle-ci par le duo de scénaristes Melissa James Gibson et Frank Pugliese, la saison 5 de House Of Cards est celle des incertitudes. Non pas parce que la direction du show pourrait être altérée par cette nouvelle équipe, mais bien parce que les Underwood s'apprêtent à affronter plusieurs tempêtes dont ils pourraient ne pas sortir indemnes. Entre une guerre déclarée à un groupe terroriste et le spectre de plus en plus menaçant d'une enquête sur leurs méfaits, le couple se bat bec et ongles pour garder la main sur le pouvoir.
Faisant naturellement écho à la récente élection de Donald Trump, cette nouvelle saison emprunte des éléments qui parleront sans doute aux observateurs assidus de la vie politique américaine. Elle promet en revanche de se focaliser davantage sur la dramaturgie des personnages et des intrigues plutôt que sur une trop forte tendance à s'inspirer du réel. Un parti pris qui devrait permettre de poursuivre l'exploration du couple Underwood, ainsi que l'éveil du personnage de Claire qui adopte désormais la même ligne de conduite que celle de son mari : F.U.
House Of Cards Saison 5, en streaming dès le 30 Mai sur Netflix.
Et vous ? Prêts à binger la saison 5 de House Of Cards ?